Seems like every morning it's a flat out battle to get kids up and ready ON TIME for school. Continued reminders about what they need to be sure to do….. even though they do it EVERY SINGLE MORNING so you'd think they'd have it down packed by now. I was just thinking as I was having my daily battle this morning, there has to be an easier way. Just recently, there were plans to go hang out with friends, my son scurried to get ready like a "bobcat with a bird under his tail"..... Who can guess where that quote came from??
How is it, they can quickly eat, shower and be ready to go when the destination is somewhere they're anxious to go but, the regular shmegular everyday takes so much hand holding?! I've had enough, I gave my son forewarning this morning that this daily battle is no more and things were going to change.
I've come up with 4 strategies to implement for a stellar tween morning routine.
1. CHECK THE LIST. What us moms consider dressed and ready to go is not always what our kids consider dressed and ready to go. They'll look at us dumbfounded when we ask "Did you remember to brush your teeth and put on deodorant?" As if it's optional. Having a checklist of things that need to get done to TRULY be ready to go is a must. I have to get super specific with my checklist because my son often "forgets" to do things.
These are some things I put on my checklist:
lotion

deodorant

brush your tongue

gargle
They can check it off as they go or at the end after everything is done. Here's my checklist just to give you an example. You can download this customizable template below for FREE.
2. BLOCK THEIR TIME. As adults, we know the benefit of time blocking and working on 1 and only 1 particular task for a specified amount of time. Let's face it, our kids don't really have a good grasp on the concept of managing time. They just hear us saying hurry and do this, hurry and do that while not realizing how much time it actually takes to do certain things. My second tip to getting the youngins on task to get themselves ready is just to block their time for them. Give them a certain amount of time to achieve a, b, c. Be sure to have a clock near that they can see and keep track of the time. I've added time blocks to my checklist as you can see above.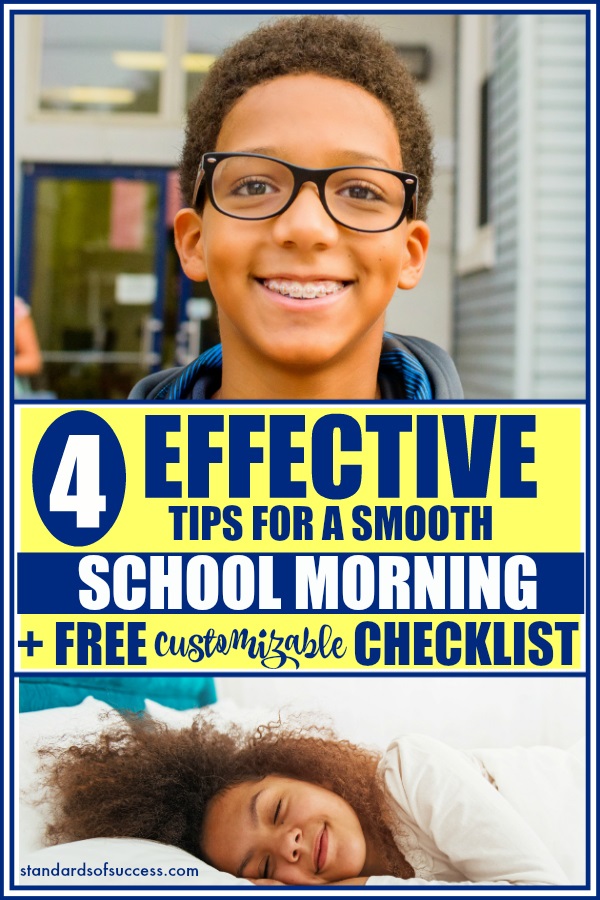 3. REWARDS AND CONSEQUENCES. I feel it's always good to offer an incentive to encourage the improvements you want to see your children. Do this just because I said so may work for a while but, you'll soon be back to the usual circle of chaos without offering the kiddos something in exchange for their diligence. My son loves to have some screen or video game time after he gets ready in the morning so, that was easily the perfect incentive for me to offer. However, it is important to make your kids understand that the reward can also be taken away as a consequence for not staying on task and getting their list checked off. Your reward and consequences do not have to be the same, just make sure it's something your kids desire to do and don't want to have taken away.
4. THE FOLLOW THROUGH. The last and final step to implementing this morning routine is to follow through, Particularly with the rewards and consequences. We've all been guilty of not sticking to our guns and letting things slide as far as our kids are concerned. It's that ooey gooey sticky love we have for them that just makes our stone cold facade melt like ice on a hot summer day. Stick to your guns mamas. Don't let them get the best of ya.
BONUS TIP: THE ONCE OVER. Once my son is done with all that he's supposed to do and before he gets rewarded for his efforts, I like to give him 'the once over". This is where I do a quick check to make sure he's actually done the things on the checklist versus just checking them off in vain. If there's ash on a knee or crust in an eye, I send him back for a redo. This redo time will "conveniently" cut into his reward time. Perhaps the redos will be few and far between if we're cutting into the fun time.
It's time for you to chime in. Let me know any additional tips you have to turn those school morning battles around. I can't wait to hear your ideas.
Please share below or join the conversation over on Instagram @standardsofsuccess.